The NSW system where drivers are disqualified for decades for a handful of traffic offences and have no avenue of appeal is overly punitive and counterproductive. If someone has not offended for a number of years, surely our courts could provide a way for them to regain their licence. To still punish someone by disqualifying their licence a decade after they committed an offence ignores the reality that a lot of people rehabilitate and increases the risk of recidivism by stripping them of hope. Having a licence is a privilege but it can also be a necessity. This is an area in need of urgent reform.
exclusive richard noone
The Daily Telegraph
April 24, 2014 12:00AM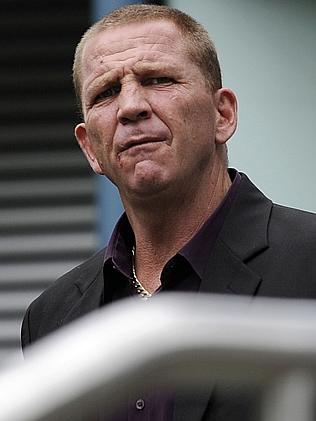 Driver Matthew Aitken is awaiting sentencing. Source: News Corp Australia
NEARLY one in 100 NSW ­motorists are disqualified, with hundreds banned for so long they will probably die before they get back behind the wheel legally.
Almost 50,000 drivers are disqualified for less than 10 years while 224 are banned for more than 50 years.
Shocking recent examples show some habitual offenders are thumbing their nose at their court-imposed bans, ­regardless of the threat of jail.
A 76-year-old driver pulled over for failing to indicate in Alexandria last month was found to have been disqualified until 2090.
Meanwhile, Matthew Luke Aiken, 40, of Gorokan, disqualified until 2046, will be sentenced next month after pleading guilty in Gosford Local Court to three charges of driving while disqualified on an uninsured and unregistered motorcycle.
He was pulled over about 3.50pm on March 28 on Avoca Drive. When asked to show his licence Aiken told officers: "I'm disqualified.''
Aiken sat behind his solicitor who told the court it had been "10 years since he had come under notice for driving''.
But his lengthy criminal and traffic records, tendered in court, revealed he was convicted for stealing an unregistered, uninsured car and driving while disqualified in 2004 and had not long been out of jail for drug supply when he was again picked up on the road.
Aiken received various penalties, from community service orders to jail, for driving while disqualified seven times dating back to 1995, ­including three times while over the blood alcohol limit.
He was declared a habitual offender in 2007 and banned until 2046.
Leslie Jason Kirkland, 41, of Cardiff, will be sentenced next month after pleading guilty in Toronto Local Court yesterday to high-range drink driving twice in two hours.
The offences happened just 19 days after the habitual offender got his full licence back following years of suspension for dozens of traffic infringements including driving while disqualified and two prior counts of drink-driving.
After returning a reading of 0.175 about 11pm on March 22 at Argenton, police charged Kirkland, suspended his licence and drove him home. Two hours later he ­returned to his car and got back behind the wheel.
Magistrate Jennifer Atkinson yesterday warned him "There will be jail of some kind," before adjourning the matter to May 21.
A person is deemed a habitual offender if convicted of driving offences on three occasions in a five-year period.
From: http://www.dailytelegraph.com.au/news/nsw/lowlifes-on-the-states-roads-nearly-one-in-100-nsw-drivers-are-disqualified/story-fni0cx12-1226893858056