In the night they come, like an unholy ­alliance of swarming ghosts. He's tried to outrun them; woken up in the tarry black with a bloodied toenail or a lump on his head from slamming, spooked, into a doorframe. He can leave his modest Sydney house lit up like a ship and still they come. Unbidden visions crowd his skull, a panic of arms and legs and burnt, broken bodies, and he can't escape the dark commotion of what he did and what was done to him: the guilt, the shame, the terror. Memories of his childhood.
He'll never outrun the nightmares, but Deng Adut, 33, has learnt to outwit them. He knows they come between midnight and 3am and so he sets his alarm clock. For three hours, in the dead of night, he keeps the bad dreams at bay by not sleeping. Three hours in which to feed a raging appetite for knowledge. Cramming his days and these dark, wakeful hours with learning helped bring Adut, a former child soldier from South Sudan, to the position he holds today: a respected lawyer and refugee advocate, a testament to the transformative power of education, an inspiration to many new Australians. He's also – somewhat improbably, given he grew up in remotest sub-Saharan Africa with no clothes, no English and zero contact with Western ways – a budding media star.
Adut had already acquired a level of local fame as a defender of the dispossessed on the multicultural streets of Blacktown, western Sydney, when he was chosen last year to star in an advertisement for his alma mater, Western Sydney University. The ad dramatised Adut's journey from conscription into the Sudan People's Liberation Army at the age of six to his arrival in Sydney at 14 via a UN refugee camp in Kenya. It followed the illiterate, penniless new Australian as he taught himself English and slept in his car while juggling part-time jobs, eventually being accepted to study law. Determination, Optimism, Courage: Unlimited, ran the tagline.
The ad went viral, attracting almost 2.5 million views to date and became one of the marketing sensations of 2015. Moved by his story, NSW ­Premier Mike Baird invited Adut to give this year's Australia Day address at the Sydney Conservatorium of Music; his impassioned plea for inclusiveness received widespread acclaim. Soon after, artist Nick Stathopoulos won the Archibald Prize ­People's Choice award with his portrait of Adut, the ­Blacktown artist's hyper-realist style capturing a suggestion of unrest in his subject's molten eyes. The refugee-made-good is increasingly in demand as a corporate speaker, has been nominated for Australian of the Year and, thanks to the Archibald, his face gazes out from bus shelters around Sydney.
Next week he releases his memoir, Songs of a War Boy, which puts meat on the bones of WSU's abridged version of his life story. It's a textbook ­narrative of hope for the thousands of refugees who seek a better life and for all those who wish them well, a neat counterpoint to the sentiment summed up by immigration minister Peter ­Dutton's recent remarks about illiterate, welfare-dependent refugees.
Adut, however, is ambivalent about his newfound celebrity. It's not that the hero mantle makes him uncomfortable, exactly, but it's incidental. Fame will not bring him peace. Advocating for others within a free, safe and fair society, a counter to his lawless, violent homeland, goes some way to easing his guilt and shame. But it can't erase the terror. At night, when the atmosphere shifts and cracks, the nightmares still swarm. Sometimes he can't outfox them. "He crashed on the couch recently at my place," says Joe Correy, Adut's partner in the AC Law Group, which they co-founded in 2014. "I woke up to a sound I thought was a woman, but it was him screaming. My wife heard him the other night as well. She said he was screaming all night."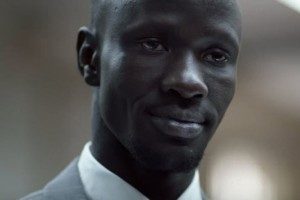 Hyper real: with artist Nick Stathopoulos and his Archibald Prize portrait of Deng.
The room is a bustle of pillow-white armchairs, matching tablecloths and tastefully arranged ­flowers. Adut, tall and raw-boned, stands amid the scented-candle ambience, contemplating a First World problem: where to sit. "I'm not much into comfort," he says. The wedding-venue refinement of this inner-city Sydney cafe is starkly at odds with the tale of blood and monsters that Adut will soon unfurl, but the ethos behind it is not. All profits go to the charity Freedom Hub, which ­supports trafficked women in Australia.
As I arrive, the charity's founder, Sally Irwin, is talking to Adut about taking part in a short film to raise awareness. He helps where he can. "Creating opportunity for women who were ­trafficked, that's something dear to me," he says. "The horror that people face in state-of-war countries like my country should not be transplanted to Australia, to countries that are highly civilised."
Adut became an Australian citizen in 2001 and you'd travel far to find a more patriotic resident. His new home is "a mighty country", a peaceful land with inflexible boundaries between right and wrong, where freedom from fear is, as he said in his Australia Day address, "almost taken for granted".
It's also a place where one can readily purchase a flash suit. Adut was born into the Dinka tribe, the largest ethnic group in South Sudan, known for adorning their bodies with ostentatious displays of colourful beading. Translating this peacock aesthetic to the West makes for flamboyant fashion; today Adut wears a navy suit, coffee-coloured waistcoat and spotted tie, offset by a paisley-patterned pocket square. The cuffs of a lavender shirt, which he routinely tugs down over restless hands, are monogrammed with the initials of his law firm. Above a loosened black and gold striped cravat a high forehead bears tiny scars where Adut had nerves cut when he was small, a traditional practice the Dinka believe can prevent river blindness.
What Adut doesn't have is the pattern of V-shaped lines ritually scarified onto a young Dinka boy's head around the age of 10 as an ­initiation into adulthood. This rite was stolen from him, along with most of his childhood, by the ­soldiers who forcibly removed him from his ­family and armed him with an AK-47 at an age when most Australians are in primary school.
Adut was born in Malek, a small fishing village near the White Nile River in South Sudan. His father, a banana farmer, died when he was young and he has since lost four of his seven siblings: two to disease, two to war.
In 1987, members of the Sudan People's Liberation Army (SPLA) came to his village. The ragtag rebel group from the south had formed four years previously to fight the northern Khartoum-based Islamic government in what was to become a ­brutal civil war claiming more than two million lives, according to UN estimates. Inter-tribal conflict and the superior firepower of the northern army had decimated SPLA ranks and they came looking for new recruits in the rural villages that were now populated mostly by women and children. One boy would be taken from each family. Adut was playing in the mud, moulding little make-believe cows, when they came. He was told he'd been selected to go to Ethiopia "to be educated" and, though he cried inconsolably at having to leave his mother, there was no denying the SPLA. Adut was given an army-issue khaki shirt, his first article of clothing. Along with 30 other boys, including three cousins, all of them "tiny, crying and shivering with fear", he was marched for nearly five weeks across the equatorial wilderness to Ethiopia. Before even reaching their ­destination, he says, the child conscripts endured attacks from lions and other wild animals preying on those who fell behind. Some were shot by ­bandits; others died from starvation or thirst.
Adut says his military training began in Ethiopia in Pinyudo, ostensibly a refugee camp, but which the SPLA secretly used to train young boys. Disease swept through the camp and soon Adut was bone-thin and often feverish; he was in and out of the camp's primitive hospital, sleeping on the ground with corn sacks for bedclothes. He went a little mad, he says, watching as dead boys around him, including a cousin, were sewn into their corn sacks and placed in a makeshift communal grave. Many conscripts, some no older than 10, put guns to their heads to escape the misery, he says. More than once, Adut considered this option.
However, extreme and violent discipline, including ­constant beatings and executions by ­firing squad for insurrection, drilled into each boy a deadly allegiance: "In that camp we slowly but surely became effective, faithful killers," he says. If we die today, so what? the child army would chant as they charged machine-gun ­bunkers and side-stepped tracer bullets. With bloodlust kindled by sustained brainwashing, and fuelled by daily doses of a herbal stimulant called khat, they had one thing on their mind: kill the enemy.
Today, he carries a number of physical scars: a limp, nerve damage, and needling pain in his groin and back. But the unseen damage is most acute. "To look at my generation that were born in war, you would say that they are all carrying with them some sort of psychological injuries," he says, plucking at a stalk of dried banksia from one of the cafe's floral arrangements. Adut is accompanied throughout this interview by not one but two publicists. His publishers, after putting him through a course of media training, are keen to smooth any hiccups in translation. Unnecessary. Adut's English, while quirky, is perfectly clear – he uses it in court, after all – and the rawness of his delivery lends it a ­granular eloquence.
One memory in particular stalks his sleepless nights. Based in a staging camp near Kapoeta, he was on patrol one day when a sniper shot dead a good friend. Back at camp, his superiors demanded retaliation. Adut and his fellow war boys brought in a group of blameless local tribespeople – men, children, a pregnant woman – who happened to be passing by, hogtied them and "tortured them terribly" before handing them over to special forces soldiers, who burnt them alive.
"If I was wise enough or didn't have hate against what was done to one of my colleagues, I could have let them go," he says now. "We should have let them go. For them to die like that, and I was part of the people that captured them and brought them to the authorities, well I'm not proud of it.
"No one should celebrate someone's death but we were celebrating their death at the time. We were just a bunch of kids seeing an eye for an eye as a way forward. It was just part of our training. But reflecting back on that, I should be ashamed."
Following the torture incident, Adut's unit was sent to the frontline of a battle raging against government soldiers in Kapoeta. Here he engaged in his first real conflict, raiding a nest of enemy machine-gunners. It felt anti-climactic: "My first battle was over, and far too quickly. Had I killed? I wasn't sure." The second raid was a ­disaster. SPLA platoons were massacred; Adut was shot through the testicles, wounded by ­shrapnel and sustained a bullet wound "the size of a coin" in his back.
Despite his latter-day accomplishments, Adut tends to focus on his lesser angels, reeling off a ­litany of reasons for his enduring shame and guilt as one of the publicists weeps quietly beside him. "I am ashamed of being in this position, right now, being able to acquire education that other people did not acquire, especially people of my age group," he says. "I feel bad because I'm the only beneficiary; they died prematurely and their life got ended with nothing. I am unable to pay back my debt to those kids that helped me out [in Sudan], so I am ashamed at being able to enjoy the life that we all should deserve to enjoy. All these things, they don't make me feel good. I'm not feeling good at all."
Adut narrates the horror of his past at a remove. Correy, his law partner and friend, says he rarely opens up about it in private, preferring to goof around with his mates and keep things light. Though he has a room-filling charisma, and what journalist Hugh Riminton, a family friend, calls "a striking intellect", Adut is not naturally inclined to seek the limelight. He drives a "beat-up" Corolla and sleeps on a mattress on the floor, notes a colleague, adding that "he's not driven by wealth or prestige". Ben Mckelvey, the Australian journalist who co-authored Adut's memoir, says: "He's not an egotistical person. But he does like to pontificate a bit from time to time, which comes from his innate sense of justice… He feels that even though he was a child and he didn't have any choice but to do the things he did, he carries a debt. If you feel a general sense of shame, you're either going to lash out or it can be the engine for something useful."
Adut has a heavy workload, taking on fee-­paying criminal trials and family law for AC Law as well as refugee pro bono cases that sometimes, Correy says, "consume him to the point of taking up almost half his practice". He also volunteers his time with community groups, helping to explain civil and criminal matters to members of the Sudanese community. "He's helped many Sudanese-Australian young people who can't afford legal services and, especially when you're in an industry that is highly commercial, that shows how passionate he is about justice," says ­fellow South Sudanese ­refugee Maker Mayek, now a ­Darwin solicitor.
Superintendent Mark Wright, former Blacktown commander and now head of the NSW Police Force Command College, first met Adut in 2008 when he was emerging as a ­dedicated and energetic community leader. "He was someone you had to warm to and you could see he wanted to make a difference; he didn't want the youth to suffer the way he did as a kid," Wright says. "But he's also big on making sure they give back. I've heard him say that many times: 'I want you to get educated and work and pay taxes in ­Australia and give back to this country.' "
Correy says his partner has "an alpha male ­personality" and, in court, "he's a fighter" who "never takes a backwards step". Adut once failed an ethics component of his law degree rather than concede his hard-line stance that torture could be condoned in extreme ­circumstances. He concedes he has been a "dissenter" from an early age. "I don't follow orders, I break them," he told a women in finance conference in Sydney recently. Care and protection order hearings, ­particularly, fire his blood. "I got reported once for misbehaving in court because I told off the magistrate. I know that my practising certificate will be under fire but I am looking at the interests of my client… If the government is involved in taking somebody's child, I want the judge who makes that decision to be very clear why."
Adut at his graduation with his brother, John Mac Akuek.
He's a "remarkably good lawyer", says Professor Michael Adams, Dean of the School of Law at WSU, where Adut has a scholarship to study for his second Masters of Law degree. "But, yes, I can imagine sometimes the frustration of the system would get to Deng," he says. "He does like to challenge and his passion certainly could cause some blindness."
Adut also devotes time to the John Mac Foundation, a charity established in memory of his late brother, 12 years his senior. Proceeds from the book and Adut's numerous speaking engagements will be used to fund mentoring and scholarship programs for refugees in Australia, and will also go towards education and bolstering the fledgling legal system in South Sudan, which gained ­independence from Sudan in 2011 but is still riven by ethnic infighting. "What I do for other people is what will make me happy," Adut says. "There's no bigger debt than what my brother did for me."
John Mac Akuek is a defining presence in Adut's life, responsible for his escape from hell. In 1996, while Adut was stationed in a town called Nattinger, he was reunited with his brother, who had voluntarily joined the SPLA but escaped after falling foul of factional infighting. With his ­pregnant wife Elizabeth, John risked his life to smuggle Adut to Kenya under cover of night on a truck loaded with sacks of corn. They spent 18 months in a mud hut in a ­blistering hot refugee camp in Kenya before their visa for Australia was approved in 1998, thanks to the sponsorship of Christian aid workers Bob and Christine ­Harrison. At the age of 14, Adut arrived in Sydney.
The magnitude of the refugee's adjustment to Western life makes Adut's standing today all the more remarkable. When he arrived with John and Elizabeth and their newborn son, they were told they were to be settled in a place called ­Blacktown. Their hearts sank. Surely ­Blacktown was yet another ghetto, "a place to dump all the black people". In fact, there were few African faces and everything was alien, beginning with his first meal: "yellow potato strings" at a ­suburban McDonald's staffed by "people dressed up in ­uniforms who weren't soldiers". Here is a flushing toilet. This is a brush for your teeth. There were nuclear-orange snacks in vending machines and confounding, plastic-coated sandwiches. Adut baulked at road intersections and exhaust fumes; he remembers feeling helpless after seeing a woman hit by a car and not knowing to call 000.
Through the Christian charity Marist Youth Care, Bob Harrison organised an apartment "filled with technological wonders". Elizabeth tried to heat the oven with kindling and fire and Adut exploded a can of Coke by putting it in the ­microwave to warm it. "Deng was bewildered by everything," recalls Bob, who divorced from ­Christine in 1999. Adut has lost contact with Christine but still visits Perth-based Bob, a 64-year-old auditor whom he calls his "Australian papa".
Cold weather was another new concept that added to the daily tumble of disorientation and ­cultural stumbling blocks. Adut felt untethered and missed his mother, with whom he'd had no contact for nearly a decade. "But of course I was luckier than other Sudanese," he says. "I had my Australian family, Christine and Bob Harrison, and my brother and a few people around to help me out in terms of mentoring and language. I didn't just grow from the concrete without ­somebody watering me."
He lasted just one day at Evans High School, where lessons in literature and human biology sounded to him like "gibberish". But he had always considered education the pot of gold at rainbow's end and so he enrolled in an intensive English course at Blacktown TAFE and haunted the ­libraries while supporting himself working various part-time jobs, often sleeping in his car so he wasn't late to class. "He was eager to learn and he learnt very quickly," says Bob. "Deng's very self-contained and he had sufficient strength of character to be able to handle the trauma he'd been through and put it in a compartment."
Adut's studies were supplemented by repeat viewings of his nephew's Wiggles DVDs and reciting long passages from the Bible (although Adut is an avowed atheist). He played soccer; listened to the densely packed rhymes of US rapper Xzibit; made friends with other disenfranchised African boys. Riminton remembers an "intense and brooding" teenager, charismatic even then, but "wary".
In 2001, Adut graduated from TAFE with the equivalent of a High School Certificate before completing an accountancy diploma. But book-balancing wasn't his forte and John suggested he channel his anger at injustice and love of an argument into studying law. He was accepted into three universities, settling on Western Sydney. Meanwhile, John – despite gaining a social science degree – could find no work outside a factory. He travelled back and forth to Sudan, where he was killed when fighting flared again in 2013.
Adut considers himself an "alternative parent" to John's three young children, who live with their mother in Blacktown. It's a job that requires the "soft approach" he has nurtured since shedding the rhino-tough defences of his childhood. "I would say I'm more Westerner than some people that say they are Westerners," he says. "Yes, I am soft. Somehow, I'm more vulnerable to seeing other people being treated cruelly. Consider the way I was treated in South Sudan; all these things will make you a tough nut to crack. But if you come to a place like Australia, where there is no nut to crack, that requires me to soften my approach in life."
Child protection, understandably, is an issue close to Adut's heart; it forms the basis for much of his legal work and it's central to his criticism of the Australian government's policy of forcing all ­asylum seekers who arrive by boat into offshore detention. "No child should be left in a queue to wait in detention, to wait with no definite answer," he says. "It creates uncertainty and it makes us cruel." Adut sits straighter in his chair and tugs angrily at the lapels of his hand-­tailored suit. This is the one area in which he advocates discrimination. "The intakes should involve people who have children taking priority and those that don't should wait in the queue."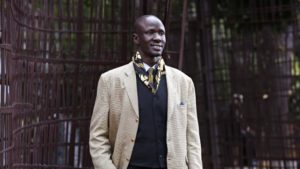 Reunion: with his mum in South Sudan; they were separated when he was six.
As for those granted asylum here, he asks that his fellow Australians show compassion. "When they come to this country, everything is confusing, everything is new," he says. Unemployment, ­language barriers, cultural ­differences and intergenerational conflict within families all work against the new Australian. ­Having represented hundreds of members of the local Sudanese ­community, Adut has seen some of the resulting problems first-hand. "We're bringing people to Australia and we expect people to know this ­complex society," he says. "If someone just goes around the corner and pees, he has committed a crime under Australian law but he didn't know! Because that's what he used to do back in Africa, he used to go in the bushes. So now we have ­people going through the legal system who didn't know better; they're breaking the laws as they go because they can't understand what's going on."
Following allegations that young South ­Sudanese men were involved in a spate of violent activities across Australian cities recently, ­particularly in Melbourne, Adut controversially told ABC radio that many of them should be deported as they were "just too traumatised to adjust. They're not adding anything to this ­economy, they're not helping their parents, and they're not helping anyone."
"I know people blame me for saying that," he says now. "But if they understand we are doing bad for the children, or for Australia, to criminalise them when they are young, start locking them up, what benefit will we get in Australia? They will become a burden, they will not be able to get a job." He realises, he says, that providing all the help that refugees need is too much to ask of ­government. "But individually there are people who are available in Australia to assist those who have been given a protection visa to get a job or get into school and maybe make a meaningful life in Australia."
Mud spatters like shrapnel as the first drops of the coming rains pit the dusty tracks. It is June, the beginning of the wet season in South Sudan, a difficult five months during which much of the country comes to a standstill. Adut has returned to his homeland for the first time since John was killed. He has long suspected that his brother was assassinated, perhaps by a fellow SPLA officer to settle an old score, and he needs to find out. For peace of mind, or the closest he's allowed to that state. As it turns out, there was no conspiracy; John had fallen prey to sectarian violence, just another victim of the friction between warring tribes.
While in South Sudan, Adut visited his home village of Malek and stayed a few days with his mother, Athieu Akau Deng. "Deng has a great fealty to his mum," says Mckelvey, who accompanied Adut on the trip. "He only spent the first six years of his life with her, but he talks about her all the time. She's one of the few anchors in his life."
Athieu Deng is an old woman now, a traditional African who is wedded to the continent. She will never leave but Adut can't stay. He is more Australian than Sudanese; a lawyer not a soldier. And though his heart will forever skip a beat at the sight of the White Nile River, and the eagles soaring above it, Adut has little time for the country of his birth, a near-bankrupt "kleptocracy" ruled by "demagogues and madmen" where the rule of law bends to suit the powerful. It's where he lost his childhood. And it's the birthplace of the nightmares that suffocate his sleep, the scenes of torture and murder he firmly believes are a reminder that he owes a debt to the world he can never repay.
Songs of a War Boy, by Deng Adut and Ben Mckelvey, will be published by Hachette Australia on October 25.
FULL ARTICLE http://www.theaustralian.com.au/life/weekend-australian-magazine/child-soldier-turned-lawyer-deng-adut-transforms-trauma-into-hope/news-story/f6ffedfd0bb891a1507bbf81d4fab208